When we first came across Kate and Olly's account, KoTravellers, we knew we had to get their inside travel tips. Not only are their images insane but their travel recommendations as down to earth as they come. When they're not outdoors exploring hidden waterfalls or discovering new dive spots, they're planning their next trip together #couplegoals
Since starting their blog in 2016, this dynamic duo have partnered with some of the world's leading hotels, created content for brands such as Mastercard and have explored over 12 countries. Pretty impressive, right?
We asked Kate and Olly about how they started their blog and what makes Bali one of their favourite destinations.
Tell us about KoTravellers
We started our Instagram account, KoTravellers, together in 2016 as a platform to document our travels. Olly bought his first professional camera in the same year just before we left on our trip to Bali!
Inspiring others to travel and being able to provide guidance/ tips to others is a part of the job that we really love! While there may be some negative aspects to social media we love that it has helped us develop a loyal community who continue to inspire us everyday.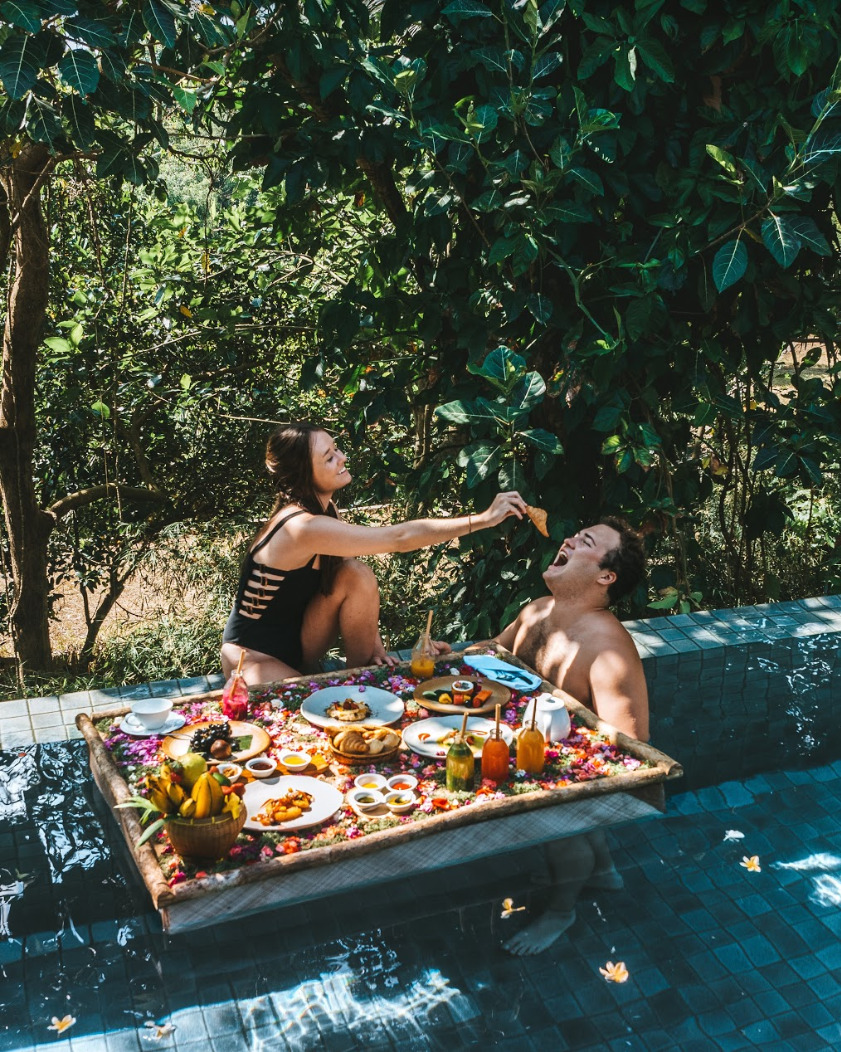 What made you want to explore Bali?
For us, Bali has it all. It is not too far to travel from our home, Sydney, has great bars and restaurants and many picturesque locations. Our first time travelling together to Bali predominately revolved around scuba diving so we spent a lot of our time on Nusa Lembongan and Gili Trawangan.
What are your favourite places to stay in Bali?
That's a tough one. For hotels and dreamy locations we would have to say Uluwatu. We recently stayed at Alila Villas Uluwatu and the hotel was by far one of our favourite in Bali (and perhaps even in the world!). The beaches are also great in Uluwatu so that's a plus!
We also prefer the less known areas such as Munduk as this area is less touristy. It is also completely different to the South of Bali and is the perfect place to go waterfall chasing.
Check out Bali's hidden waterfalls
Any top Bali picks?
In no order, here are a few of our favourite things:
- Scuba Diving with Manta Rays and Turtles in Gili Trawangan
- Discovering hidden waterfalls in the midst of the Bali Jungle (particularly in the North of Bali)
- Arriving to the Rice Terraces in Ubud at sunrise as it allows you to have the whole place to yourself!
- Watching the sunset at 'The Lawn' in Canguu
- Making regular visits to 'Spring Spa' in Canguu or Seminyak for the best spa treatments in Bali.
Favourite Bali travel moment?
We really don't know how to choose just one! Swimming with Manta Rays has been on our bucket list for a long time so being able to tick that off while staying in Nusa Lembongan would have to be one of our favourite travel memories. The day we went, we were lucky to swim with four Manta Rays so it was truly a rewarding experience and still to this day amazes us!
We saw that it was your first time to Uluwatu! Any advice for people heading to Bali for the first time?
Do some research first! Every area is different and offers unique experiences. If you want a beautiful cliff top location with lovely beaches then Uluwatu is your pick. If you're a foodie and enjoy the bar scene then try Seminyak. If you want to escape the tourist scene and prefer spending your day exploring waterfalls then Munduk is a unique and special location. If you have dreamed about visiting the rice terraces then Ubud is the go. Finally, if you prefer island hopping then Nusa Lembongan and the Gili Islands are great options!
In other words, make sure you book enough time to be able to explore a few of the locations in Bali.
What's next on your travel bucket list?
There are too many places to list. A few places on our bucket list which we are hoping to tick off in the next few months is the Phillipines, Maldives and Sri Lanka.
Inspired by Kate & Olly's trip? Check out our deals to make that Bali travel dream a reality.