Beyond the bars, beaches, baes and babes there is a whole lot of exploring to be done from Bali. So peel yourself away from the sun lounge, put down the Bintang and hop on a boat. Paradise awaits. Here are just some of the islands worth travelling for:
Pristine white sand beaches, traditional culture and a majestic jungle clad volcano tower over this untouched landscape. Lombok is only a 30 minute flight from Bali but a world away. You will find world-class surf breaks, jungle treks and buzzy cafes in Kuta Lombok. Senggigi is a hotspot for families, with resorts and villas located amongst lush landscapes of coconut trees and hidden coves. Head North to the waterfalls of Mount Rinjani and sensational views.
How far and how to get there: 212 km away via Padang Bai by boat or via Lembar by road
Things to do: waterfalls, hiking, surf and scuba
'The Gili's' just off the coast of Lombok are on everybody's bucket list. From party people to couples looking for serenity, this archipelago of tiny islands is where you will find all night full-moon parties, vivid marine life, turquoise ocean, boutique hotels and breathtaking sunsets.
No cars or motorbikes are allowed so you can slow right down to a languid island pace. Gili Trawangan or 'Gili T' is popular with partiers worldwide, while on Gili Air beaches are endless and the vibe is quieter. Gili Meno is the most traditional of the three fringed by coral reefs and dotted with rustic villages. Gili Gede is part of the 'secret Gili's' an undiscovered paradise and a great launching pad for nearby surf breaks and reef dives.
How far and how to get there: 104 km via Padang Bai by boat then via Menjangan Island
Things to do: Gili T brings the party vibes and yoga, scuba diving, surfing. Gili Air and Meno are all about lazing, snorkelling and romantic walks on perfect beaches.
Nusa Penida
If you are looking for a true slice of untouched island paradise and a reminder of what Bali was like 40 years ago, you will find it just 30 minutes by boat from Sanur. Nusa Penida is home to the emerald green Angel Billabong a breathtaking spot for a dip and a photo. Stay in a traditional homestay and discover plenty of other postcard perfect sites on this rugged largely undiscovered island. Or just pop over for a day trip.
How far and how to get there: 53 km away via Sanur or Padang Bai by boat
Things to do: take a day tour, scuba, swim with manta rays, snorkel Crystal Bay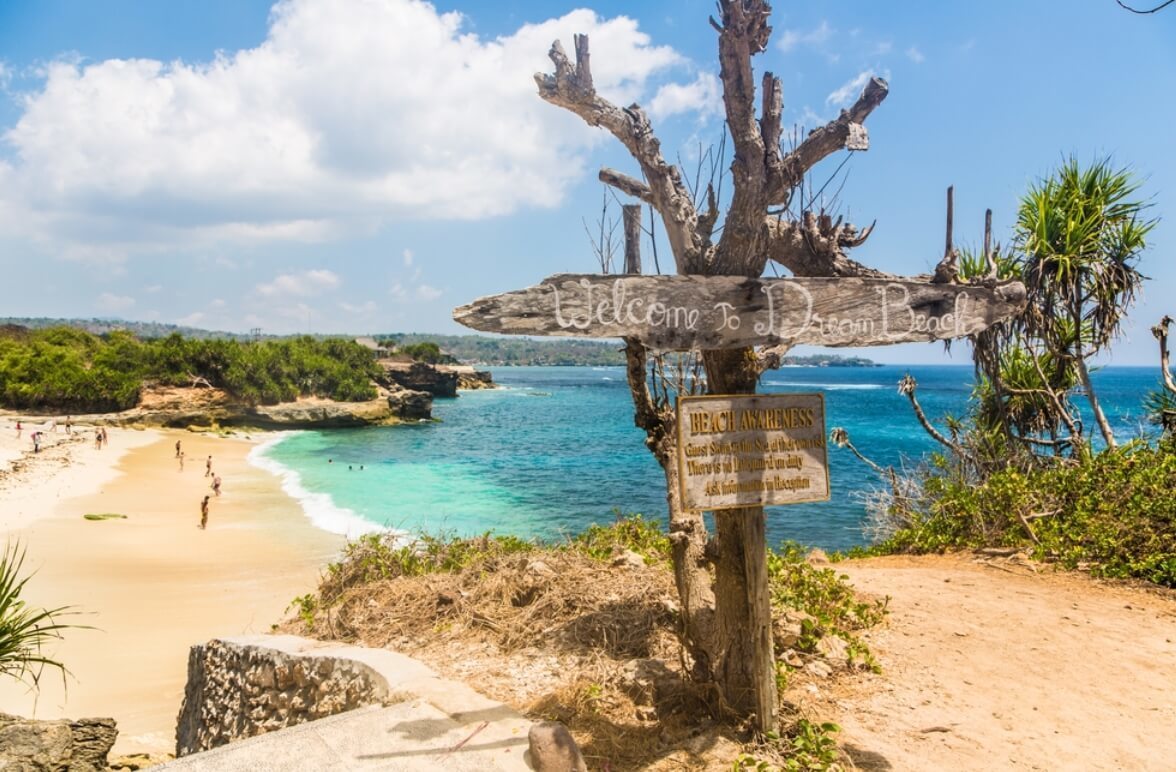 Nusa Lembongan & Nusa Ceningan
Bali's smaller but increasingly popular cousins will welcome you with their relaxed village vibes. These idyllic islands have a range of boutique accommodation, surf shacks, restaurants and cafés. A perfect retreat for surfers, with sensational sunsets and surf breaks. Another drawcard is the range of watersports on offer and the 12 meter cliff jump Blue Lagoon. Your days will be filled paddle boarding, surfing, snorkeling with mantas, cliff jumping and scuba diving.
How far and how to get there: 55 km via Sanur or Benoa Harbour. A fast boat will take 30 minutes the slower local boat option 90 minutes. To get to Nusa Ceningan just cross the bridge from Nusa Lembongan.
Things to do: Paddle boarding, surfing, snorkelling with mantas, cliff jumping, diving, seaweed farming and enjoying village life.
Written By: Fotini E Douglas