Bali is the hottest destination for fitness and health retreats, but with so many retreats on this beautiful island, which are the pick of the bunch? Below are a few we highly recommend you chat with and see if their style of retreat suits you!
Active Escapes create holiday experiences using the planet's most spectacular holiday destinations as a backdrop. When you're not getting active and in-shape, you'll no doubt be enjoying one of their more leisurely options, whether it be sunbaking, shopping, horse-riding, a cooking class… or even enjoying a cocktail at sunset at one of the local beach clubs! Their main priority is your enjoyment. meaning you're always in control of your level of participation. Sun, surfing, fitness, fun, like-minded people…there is no better way to escape!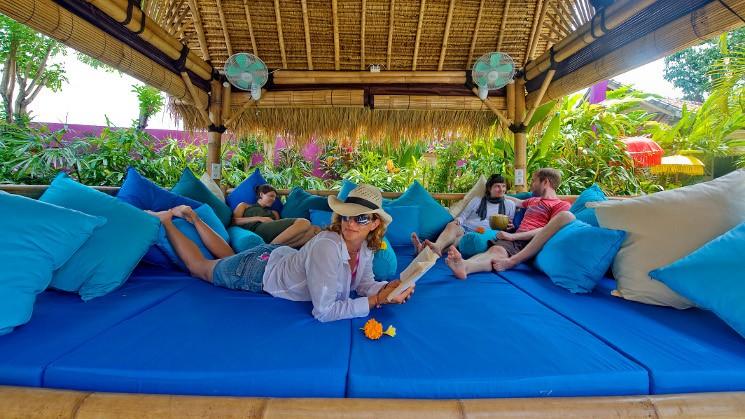 Bali's only surf, bike and yoga retreat located in Canggu, The Chill House is an active retreat for people who like to stay active and eat amazing healthy food. Different to a guided retreat, at The Chillhouse you have the opportunity to customise your own experience and mix and match activities as you like. The retreat features delicious organic meals, along with body and soul treatments.
With stunning grounds located in the heart of Canggu, Desa Seni is an institution for yoga in this part of Bali. The large property comprising of lush greenery and antique Indonesian Joglo structures offers state of the art yoga facilities with up to 6 classes daily across Ashtanga, Vinyasa, Hatha and Embodied Flow styles. Desa Seni offers guided and non-guided retreat experiences throughout the year as well as teacher training programs. Accommodation is set in amongst the Joglo structures and they have a cafe serving wholesome, vegetarian food.
Escape Haven is a luxury wellness retreat designed 8 years ago by women, exclusively for women. 80% of their guests are solo travellers so it's perfect for guests either travelling on their own or with others. Built with their needs in mind, three week long wellbeing packages have been created to ensure that at the end of the 7 days women return home feeling transformed and flourishing into the most radiant version of themselves. Guests choose from 3 packages including surfing, yoga, spa treatments, healing, meditation, culture, food, detox and fitness. Escape Haven has two premium locations: One in uber trendy Seminyak and the other, their brand new boutique resort in hip surfer village, Echo Beach, Canggu. It is near the beach on huge luxurious grounds boasting 2 rivers, multiple outdoor Jacuzzis, stunning pool, yoga shala, outdoor spa bales overlooking the river and just 6 stunning standalone suites with beautiful private outdoor ensuites. The ultimate in luxury. After a week of pampering and activity, you will take home key tools to enable you to lead a healthier, happier life.
Nestled alongside the Ayung River, Fivelements, Puri Ahimsa is an award-winning eco-conscious wellness retreat deeply rooted in the island's ancient traditions embracing harmony among spirit, human and nature. Fivelements invites guests to embark upon a new healing journey through the mystic culture of Bali, embracing and respecting the body, mind and spirit. Fivelements offers highly personalised wellness retreats, luxury eco stays and day programs, combining Balinese healing rituals for purification, balancing and regeneration, plant-based living foods cuisine for health, beauty and longevity and sacred arts practices for inner strength, alignment and dedication. Located outside the tourist hub of Ubud, Fivelements' healing and wellness destination combines the best of luxury wellness hospitality and inspiring eco design for those seeking an authentic Balinese experience steeped in their mission of life transformation and love in action.
(previously known as Surf Goddess and Bali Goddess Retreats)
Goddess Retreats, founded in 2003, is the original surf, yoga and wellness retreats for women in beautiful Bali and Southeast Asia. Our women-only holidays specialise in providing a positive, supportive environment where women can explore the world, learn new skills, find inner and outer balance, nourish their bodies & souls and most of all, relax and have fun! So whether you are travelling solo or with friends or family, you leave Goddess Retreats feeling well cared for, re-invigorated and re-connected with yourself! Packages offer 2 daily yoga classes, unlimited pampering, surf lessons and activities, as well as gourmet Indonesian style menus.
IN2U Health and Wellness offer 7 day luxury wellness retreats designed to give men and women the tools they need to transform their lives. Enjoy the best the island has to offer, whilst being led by industry experts in health and wellness on a seven day ultimate transformational experience. IN2U packages include Adventure Health Retreats designed for the active adventurer to enjoy a fun packed, optional seven day schedule that includes daily yoga, meditation, training, massage, adventure activities such as hiking, waterfalls, stand up paddle boarding, surfing as well as afternoon wellness workshops designed to give you actionable tools to take home to transform your life. The Womens Nourish and Renew 7 day retreats are designed specifically for busy women who need to escape, recharge and reset. You will experience 7 days of pure bliss including daily massages, wellness workshops, yoga, meditation and one on one coaching sessions. IN2U are dedicated to transformational change, their guests leave feeling refreshed, revitalised and motivated to make life-long changes to reduce stress, improve nutrition and create a body and life they love long-term.
Ocean Soul Retreat is a luxurious 7 day women's only wellness experience located in a stunning villa in Seminyak. Their programs are based on an integrated approach to wellness. Focusing on holistic therapies and nutrition - the menu was designed by a holistic nutritionist and naturopath. The main activities to choose from are yoga, surfing, fitness or additional treatments. Wellness seminars are scheduled throughout the week to provide guests with the knowledge to continue on with their wellbeing at home.
Pelan Pelan surf & yoga retreat is surrounded by rice fields, beautiful beaches and Hindu temples. The retreat will help you forget about everyday life, relax, practice yoga and surf. You will have the opportunity to experience unique Balinese culture, eat traditional food and experience the beautiful Balinese 'Pelan Pelan' ('take it easy') mentality. Apart from Emma all of the staff are locals, creating an authentic Balinese vibe and the best Indonesian food possible.
Pelan Pelan is also nice to hang out if you're looking for a relaxation holiday with yoga an massages, if you're not that much into surfing. The retreat features 8 rooms, situated around a large outdoor swimming pool in the middle of a stunning Balinese garden on the river. It has plenty of peaceful spaces where you can relax, enjoy a massage at our outdoor massage room, sip from a fresh juice or meet other people from around the world. Different professional teachers give our yoga classes and meditation sessions in our yoga sala down by the river.
Overlooking the beautiful beach of peaceful Sanur, Power of Now Oasis, a purpose built yoga, meditation and holistic center, offers you unique specialty retreats. 7 days of healthy food, luxury accommodation, unlimited yoga, meditation, sharing and healing sessions and pampering guided by experienced retreat leaders. Each of their retreats offers something unique. In their Surf in 2 Yoga retreat you will create awareness of your body through yoga combined with surfing so you can really get in touch with your body. In their Yoga Immersion & Chakra Balancing retreat deepen your Yoga practice, balance and renew your energy for better health and well-being and learn how small lifestyle changes can transform your day to day life. In their Real Value Retreat they offer customized retreats to make a positive difference, teach and help you to improve your health, enhance a peaceful mind, and ensure your retreat is a memorable and enjoyable experience. All retreats are suitable for complete beginners to strong practitioners. Each individual's yoga retreat is personalized so they are ensured a beneficial retreat experience. . We like to keep the group small, with a maximum of 10 people for a fulfilling experience.
The Seventh Seal Luxury Retreat provides the perfect sanctuary for you to rest, recharge and return home with the tools and inspiration for a happier, healthier life. In six blissful days you will reconnect with yourself in a stress-free environment, to flourish and discover a healthy new you. Surrounded by nature amongst rice paddies just outside Seminyak, this boutique wellness retreat has just seven suites and a maximum of 14 guests at any time. You will be accommodated in luxuriously appointed suites, a 25-metre pool, yoga shala, gym, peaceful living areas, hammocks and meditation pods offer you the perfect blend of 5-star facilities and Balinese healing culture. Your retreat team is led by Amanda Bruton, Australian Holistic Lifestyle Coach and advanced yoga teacher. During relaxed workshops, you'll learn about healthy eating and hydration, quality sleep, letting go of stress and making time for yourself. Your body and mind will be supported with delicious organic food, yoga and meditation and pampering spa treatments — all included in your retreat price. You have the choice of the Journey to Wellness package, the Fitness Kickstart package to facilitate fitness and weight loss and the Nourish and Nurture package for those wanting to learn more about good food and vibrant health. Seventh Seal provide you with the tools you need to carry everything you have learnt back to your daily life.
http://www.nayaubud.com/group-retreats
A beautiful property designed to embrace you into the beauty, bounty and bliss of Bali, Naya's main purpose is to become a home for others to gather and to reconnect with their potentials, wisdom and gifts. A place where teachers, healers, musicians and dreamers can realise and share all that they have to offer. A sacred space for deep inner transformations, healing and those cherished AHA moments. Empowering and beautiful retreats, soulful gatherings, homestays, nourishing meals, and stillness. Currently Naya and Naya's Rainbow combined has 32 beds for residential retreats, yoga classes of up to 40 people, and hold gatherings of up to 100. After September 2018, we will have 15 beds (capacity for 19 pax).