There is no doubt for a small island, Bali is home to some serious culinary clout. Michelin stars don't come easy nor do reputations that span decades and continents - here is our short list of just some of the celebrity chefs that always rock the pass:
Eelke Plasmeijer and Ray Adriansyah are the culinary might behind Ubud's Locavore the award-winning Michelin starred flagship in Asia's Top 50 Restaurants. Their unique concept of locally sourced, eco-friendly and sustainable ingredients has seen them also open Nusantara, Locavore to Go, Night Rooster, Localab, and the new Local Parts.
Jethro Vincent is the culinary brains behind the ever expanding 8 Degrees Projects of concept inspired venues with chef-driven menus. From the uber chic Bikini, Bo$$man Burgers, and the iconic Sisterfields.
Ben Cross hails from Byron and has travelled the globe honing his craft with stints in Sydney, New York and Barcelona, before making Bali home in 2007. He began at KU DE TA in 2008 and is now Executive Chef at Mejekawi by KU DE TA, he works with head chef Stephen Moore to showcase an innovative interpretation of Indonesian flavours and cuisines.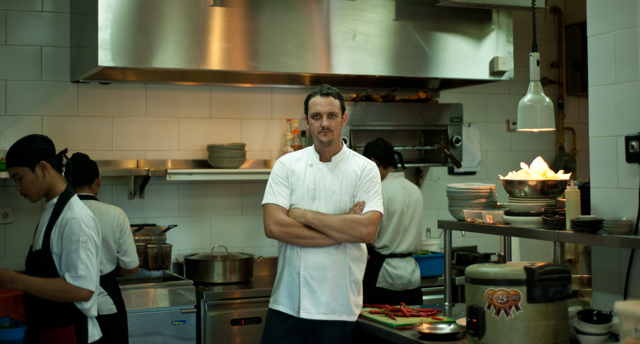 Kieran Morland heads the spectacular Merah Putih - named after the colours of the Indonesian flag, red and white. Babi guling gets the royal treatment here with all of Indonesia's best dishes meticulously prepared and lavishly presented.
Chris Salans is the executive chef and culinary ambassador of multi-award-winning Mozaic in Ubud. Where French technique and Balinese recipes and ingredients make the degustation menu here world class. You can also experience his cuisine at the low key casual gastro - bar Spice by Chris Salans in Ubud.
Will Meyrick is the tour de force behind a stable of sensational venues. From the prestigious fine dining experience of Sarong, the three in one bustling Mama San, Tiger Palm, the sublime Ubud favourite Hujan Locale and his newest venue the Thai inspired Som Chai.
Marco Cueva is the powerhouse behind innovative AYA Street. Think part restaurant, part bar and part street art gallery. Perch yourself at the live bar (Show Bar) and watch as he bundles ingredients together to create Peruvian delicacies. Tapas, Japanese-fused ceviches and raw fish delicacies will be prepared in a teppanyaki style at the glass tile-emblazoned bar. Pair with the wines of Peru or one of the signature cocktails.
Rui Yamagashi made his name in Australia at culinary institutions like Bentley Restaurant and Bar, Blancharu, Rockpool Bar and Grill and Rockpool 1989. His creative pan-Asian flavours are the highlight at Kaminari Group's, Musubi in Canggu. The innovative menu at Musubi Features the freshness and flavours of Japanese cooking fused with French cooking methods.
Mandif Warokka leads the internationally acclaimed Michelin Star restaurants Teatro Gastroteque in Seminyak and refined BLANCO par Mandif in Ubud. His most recent fine dining ventures are the unique pescatarian concept Padi Fine Dining in the idyllic setting of the Desa Visesa Ubud and the super cool Indonesian grill Liap Liap on Jl Monkey Forest in Ubud. He has accumulated a stack of awards including the Best Restaurateur of the Year 2013, Best Chef of the Year 2013, and Best New Restaurant in Bali in 2014.
Written By Fotini E Douglas